Good Friday found me without an Easter dress for my oldest daughter.
(What? Procrastinate? Not me!)
For Chloe, I had an adorable hand-me-down dress I wore as a girl
that was hand-smocked by my lovely (and much craftier than I) Aunt Cindy
But Bailey had nothing. Not even a pattern.
So I
scavenged
through my sewing area and found the makings for this.
I thought about dying one of my white sheets pink
(I always have a stash of white sheets for sewing-they really come in handy)
but found a pink cotton that saved me the time.
I found pink ruffle edging at Goodwill last week for less than $1
and used those for the straps (I still have a couple yards left, too!)
Then I pulled out one of my vintage embroidered pillowcases and made a little apron.
I love how everything came together!
I have a few more pillowcases that my
wonderful mother has found for me over the years
and after seeing how sweet Bailey's dress turned out,
I can't wait to put the others to good use.
Perhaps matching dresses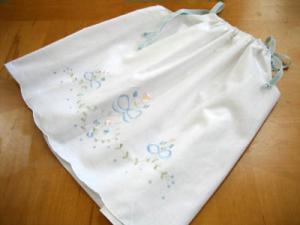 Or maybe I could put together something like
Isn't that lamb the sweetest?!
Or maybe I'll make a skirt
for Bailey with a sweet little vintage sheet
layered underneath
So many fun ideas!
I'd better get to work...